Women in IT are changing the industry from the inside out. Recruitment for the fourth edition of the Dare IT mentoring programme for women has started
Recruitment for the next edition of Dare IT, a program in which 200 female experts from top technology companies will share their knowledge and experience to help other women find their first job in the industry, is underway. So far, thanks to the program, over a hundred women have started working in IT. The initiative also caught the attention of researchers at Stanford University, one of the top universities in the world. Together with Dare IT, they will carry out a research project, the results of which will help create even more effective activities within Dare IT. The fourth edition was also organized in cooperation with popular employers in the IT industry – Allegro, ING Bank Slaski, intive and twelve others.
The IT industry – with a 17% female representation – has been one of the more masculinized market sectors for years. At the same time, IT has a growing influence on how the world changes today. Dare IT works to ensure that as many women as possible are part of these changes.
– IT is one of those industries whose scope of activity and tendency to break the status quo can best meet the challenges of the modern world. Effectiveness in implementing socially positive changes and closing the wage gap can be further improved by increasing the role of women in companies in this sector. This is why Deloitte decided to participate in a joint mentoring program with Dare IT. The future of IT industry can only benefit from policies of inclusiveness, commitment to diversity and recognizing the potential of women – says Aleksander Pruziński, Director in Salesforce team at Deloitte Digital.
Dare IT brings the intended results, therefore continuing the mission of, On September 15th we started the recruitment for the next, fourth edition of the Dare IT Program. This time, the organization wants to help as many as 200 women get their first job in IT in their chosen field.
– Thanks to the program I gained knowledge, received valuable advice and tips, and six months later I started working for the largest fintech in Europe – recalls Martyna, a participant of the second edition of the mentoring program, and now Data Analyst at Klarna (Berlin).
Any woman with a future in technology can apply, regardless of whether it's her first job or not. Age and background don't matter. Mentees, in addition to the support of a mentor (an expert in the IT industry), will have access to consultations with specialists in the field of IT. HR, a series of webinars led by practitioners from the IT industry and direct contact with employers.
A programme that has captured the interest of the IT industry
Since the beginning of the programme, Dare IT has already supported 21 companies dealing with new technologies. Companies – both Polish and international – recognize the important role they play in shaping the labour market and female employment.
– We are an organization that mobilizes hundreds of IT women every year who want to change the industry from the inside out with us. Many technology entities are involved in our program, which shows that the topics of inclusiveness and diversity are becoming more and more important in Poland. We are very happy about it – says co-founder of Dare IT, Aleksandra Bis.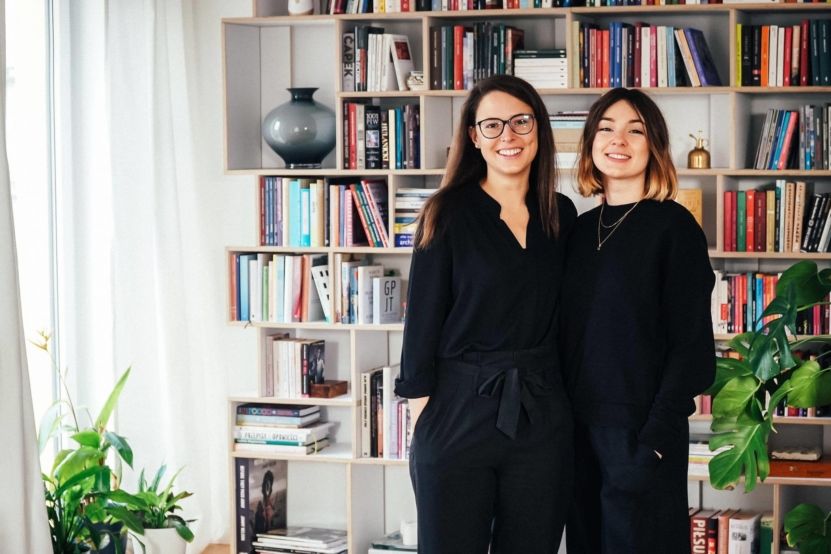 Aleksandra Bis and Natalie Pilling, founders of Dare IT
– Caring about the diversity of Allegro's teams is in the DNA of our company. As we show in our latest ESG report, 42% of people working in Allegro are women. Of course, we do not rest on our laurels and we strive to achieve full balance in this area – also cooperating within Dare IT. We realize that as an employer we have an impact on shaping the labor market, so we openly communicate that recruiting for Allegro is based on competencies. We are proud that the best talents come to us and develop within the company – among them there are also graduates of the Dare IT program from previous editions! We invite you because we really #dareIT – says Milena Kulon, Allegro program coordinator.
A programme tailored to the needs of women
Mentoring programme Dare IT is based on individual meetings between mentors and participants, during which they strive to achieve predefined goals – from building a portfolio to changing jobs. The data speak for themselves – as many as 65% of the participants found a job within two months after completing the programme and 100% of them would take part in it again.
– Dare IT mentoring is first of all created by women for women. As a result, it perfectly meets the needs of its target group, because this is the group by which it is represented. There are many mentors who started out just like the women applying to the program. Thanks to this they know what we are dealing with. Dare IT mentoring is tailored to the needs of its participants – says Joanna Cymkiewicz, designer and mentor of Dare IT.
– The knowledge shared in the programme is extremely important. However, what is crucial is building relationships, offering support and creating a strong community where you can count on each other. With such a background it is easier to enter a new professional path – says Dagmara Perlak, CSR Manager at intive.
Joint research project with Stanford University Graduate School of Business
– We are constantly looking for ways to help even more effectively. That is why we established cooperation with Stanford University Graduate School of Business. Together, we are conducting a research project whose results will help improve Dare IT's mentoring and many other initiatives, says Natalie Pilling, co-founder of Dare IT.
The purpose of this months-long collaboration is to draw lessons that can be generalized and can help increase the participation of women in IT by showing a real way to work in this industry.